Top

Why Choose All American

A COMPANY POISED FOR GROWTH!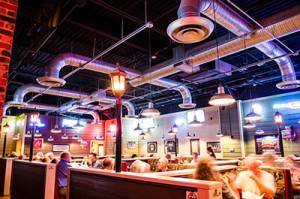 The All American Steakhouse & Sports Theater is positioned to accelerate its growth. From our first location in Edgewater, Maryland, which opened in November 2003, to our latest in Odenton, Maryland, which opened in November 2015, we have six company-owned stores with the vision to grow to twelve by the end of 2019. In addition, beginning in the Spring of 2016, we will launch our franchise opportunity for those individuals qualified to own and operate this fun, exciting, and financially rewarding business. We firmly believe that our concept will be popular and successful anywhere in the world. It is not only what the consumer is looking for, it's what they are craving—great quality food with signature steaks in a sports-themed restaurant, good old-fashioned friendly service, and a fun and energetic atmosphere.
What makes us exceptional?
Each restaurant has an in-house butcher whose sole responsibility is to make sure that our steaks are aged and cut to our critical specifications. While most steakhouses pay a third party cut their steaks, and ship to their units in cryovac packaging, we buy our beef in bulk. Our meat company purchases only Midwestern grain fed cattle, which is held in their facility in a temperature and humidity controlled room. When the beef is aged for 45 to 70 days, it is shipped to our stores where it is only accepted by the butcher or kitchen manager. In fact, each butcher has his own meat room and walk-in refrigerator to cut and dry aged the steaks.
The ambience of the restaurant creates a fun, exciting, and energetic atmosphere. With over 20 hi definition televisions throughout the dining room, waiting area, and patio, plus up to 10 six-foot by ten-foot hi definition projection screens, the true sports fan always has their favorite game on. We even have a juke box so guests can play their favorite music while dining at The All American Steakhouse & Sports Theater.
5 Cornerstones to Our Success